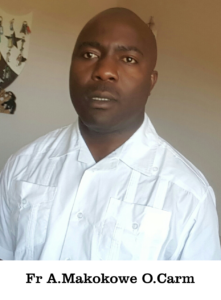 Talking of Kriste Mambo High School and the consistent successes synonymous with it, what comes quickly to everyone's mind is the question: What are the forces behind the success of Kriste Mambo?'
The Kriste Mambo High School success story can never be attributed to a single person or one group but to a combination of forces. First and for most we have very supporting parents who have admired this school and showed their children the way to Kriste Mambo. They support by timelessly paying the fees and for the many other needs of their children. We talk of the dedicated, very intelligent, committed, highly spiritual and well behaved students who never want to put the efforts of their parents and guardians to waste. We talk of the very dedicated teaching and non0-teaching staff of Kriste Mambo who always refer to themselves as 'community'. They give serious attention to their work in their work in their various departments. Lesson scheming, and professionals conducting of class lesson, expert preparation of food, quick response to maintenance issues, maintaining peace and order, giving spiritual and social guidance, keeping them safe on the roads.
We talk of the dedicated School Development Committee (SDC) with Mr D.TS Tambowoneyi at the helm of it. We have the School Advisory Board (SAB) playing a pivotal role on the issues of the advisory nature. What can this school be without the management team comprising of Mr. V.Murungu, Mrs Makirimani, Mrs. Banda, Ms Chiteka, Mr. Munhuweyi, Fr Sylvester O.Carm, Mr. MVERE the Principal. We have the finance and the Procurement Committees then comes the senior ladies of the school. We talk of the prefect's board headed by The Head girl, Kuzivakwashe Chibiso. I cannot afford not to mention all our suppliers big and small. They always make sure they avail to us everything that we need on time. We talk of the support from the Zimbabwe Commissary Provincial, Fr Vitalis Benza O.Carm and his council and the whole Zimbabwe Carmelite Commissariat. The support from our Provincial Fr Richard Byrne O.Carm and his council from Ireland. The Ministry of Education being the focal point and pull those forces combined together contribute to the success story of Kriste Mambo.
We saw ourselves completing many projects, huge and small on time because of these forces. Hats off to you all and May you continue to render us your unwavering support so that the flag of Kriste Mambo will continue to fly high. I'm so humbled by the co-operation of everyone and keeping our focus on especially the girl child knowing very well that we are not only just raising our daughters but also realizing that we are raising our daughters but also realizing that we are raising very important persons for the future.
Thank You